Site Information
List of pages that give more information about .
Earn Cash Prizes!
Sign up to Bingo News and earn cash prizes with my free-to-play social gaming!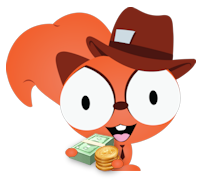 Sign Up Benefits
Sign up to Bingo News and get access to free-to-play social gaming. Play games and bet using our free Bingo Pounds currency to win Sammy Stars (named after me: Sammy the Squirrel!). The more stars you earn the more real cash prizes you can exchange them for.
As a member of Bingo News you also get access to:
A bingo newsletter every Friday
Member-only bingo promotions
Competitions
Help
Signing up for Bingo News couldn't be simpler. Under 'Enter Account Details' to the left just fill in the display name of your choice, a valid email address and your password, then complete the spam protection and you're up and running!
For further help please contact me using the pink button below.